The Nature of Industry
Explore how nature is inspiring a brilliant techno-industrial future in a dazzling animated virtual world.

THE CHALLENGE
The New York Times established their virtual reality channel, NYTVR, in October 2015, to share and promote groundbreaking virtual content amongst their vast readership. On November 7th, over one million NYT subscribers received Google Cardboard viewers with their Saturday Times to celebrate the launch of the free app. Our challenge was to create pioneering content for the debut that told the story of General Electric's commitment to development while providing a meaningful experience for new consumers.
All the while remaining mindful that many of these new consumers were not familiar with Virtual Reality - our work needed to be both impactful and accessible - and as always, take the medium somewhere new.
THE INSIGHT
General Electric needed to combine entertainment and education into this virtual reality experience, creating a dazzling but relatable touchpoint for viewers not yet accustomed to this new creative format.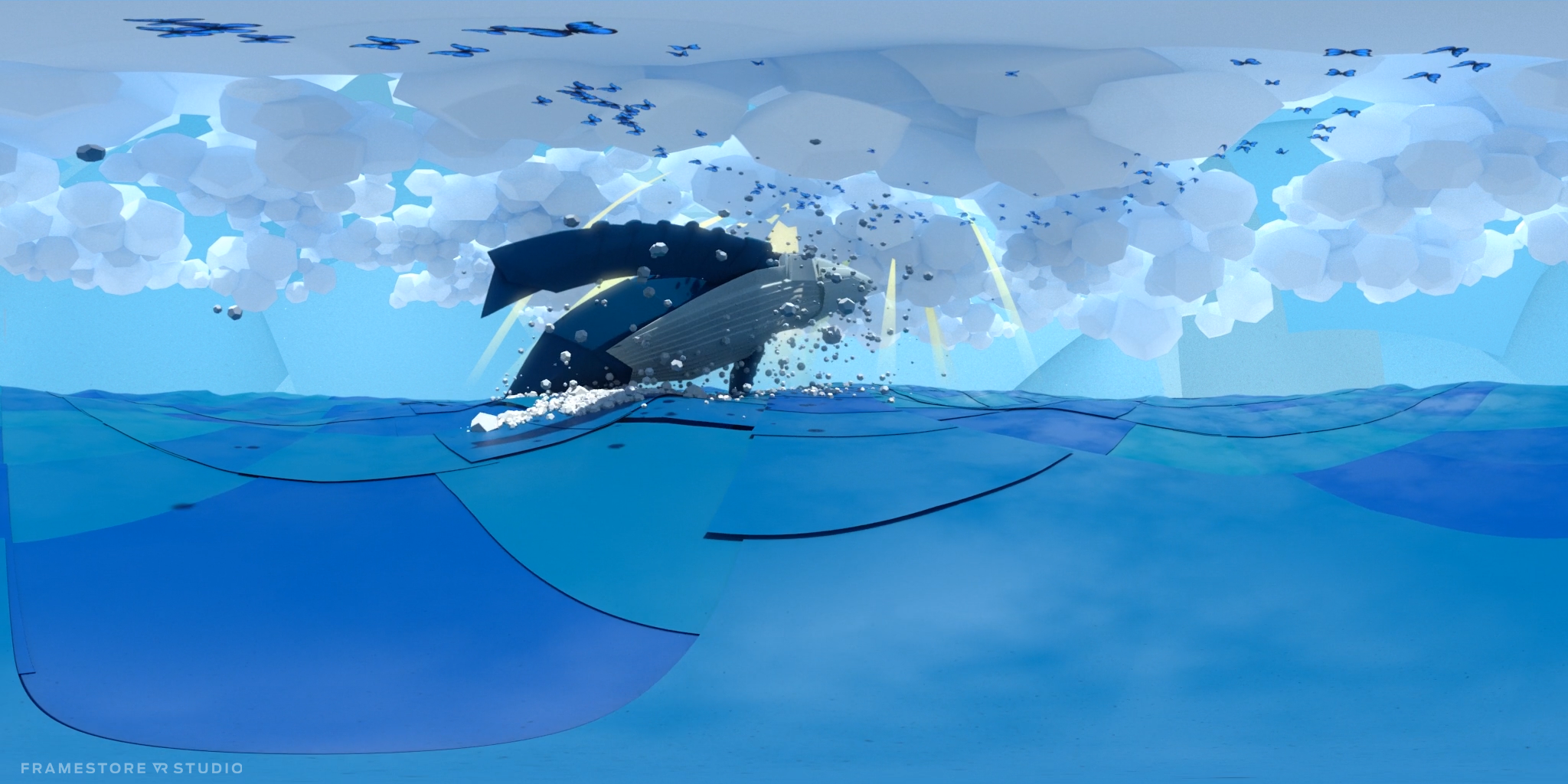 THE IDEA
Taking design cues from the publisher's paper heritage, The Nature of Industry unfolds an unparalleled narrative of technological biomimicry in a visually distinct environment. Framestore based the design on paper constructions, kaleidoscopes were dusted off to inform the animation effects, particularly for the mesmerizing bird wing sequence, all to highlight the hypnotic wonders of nature.
The rich visuals are accompanied by a subtle text detailing the trajectory of biomimicry in industry through the ages.
THE INNOVATION
The film, almost three minutes in length, was created entirely in CG and utilized the skills of various teams across Framestore. Concepts and designs born in the Design department were passed to CG where the environment was modeled and textured, the Animation team brought this colourful and beautifully crafted virtual world to life. "Making film for VR requires us to think in a more theatrical way," explains CG Supervisor Andy Rowan-Robinson. "We looked to make sure key points were emphasised in the animation style, and further cemented in lighting. We had to evolve our ideas to be a specifically appropriate for a VR platform."
Building for mobile added another layer of consideration to the process. 'There are some limitations when using smartphones through the Google Cardboard headset', explains Maryanne. "We wanted to be sure that the journey was just as exciting and vivid as you would expect through a more sophisticated, heavyweight viewing platform. The creative concept of a graphical world suits the headset perfectly."

Rowan-Robinson notes
"Not only is the piece lengthy, it's also stereo, so the amount of rendering was doubled. We set about investigating different rendering engines and devoted time to optimizing our process to ensure we wouldn't be held back when it came to iterating the lighting. Our experience in the VR field really helped us here, and the project in turn really cemented our VR pipeline too. Our team did a great job of ensuring the technical construction took care of itself, leaving more time for creativity." The effect is spectacular 360º animation that combines the natural world and the material quality of newspaper into a unique virtual landscape.

APP LAUNCH
"The New York Times' new virtual reality application had more downloads in its first days of availability than any other app from the publisher at launch, pointing to the technology's significant potential for publishers."

'Then came the New York Times' astutely executed leap into virtual reality and what can I say? I'm hooked.'
- Forbes 11/16/15

THE REACTION
The launch of #nytvr marks a massive step forward for virtual reality. Over one million New York Times subscribers received a Google Cardboard and gained access to a whole new world of content.
Framestore VR Studio is proud to have been a part of this landmark launch.
THE IMPACT
With over 14 minutes of dwell time, viewed in VR mode the GE VR experience truly captured the imaginations of the 1.1 Million New York Times subscribers. Driving record engagement and generating buzz and excitement across social channels. The opportunity to showcase GE's brand story in such an innovative and engaging way was a triumph for Framestore's VR Studio.
850,000+
#nytvr mentions on
social channels
14.7 mins
Average consumer
dwell time in VR
1.1 million
New York Times
subscribers reached